Communication is one of the key ingredients in any company. Use it right – clients, employees, and partners will be happy, misuse it and you're in trouble. Knowing how to communicate and more importantly how to get your message across is a subtle art that has to be learned. However, utilizing the right means in this quest really does make a difference. Choose the right tools and your message will not only be heard, but it will be understood.
We use digital communication to present ourselves to potential clients, to convince partners we are trustworthy, and to keep the employees aligned and engaged with the overall goals. However, as most work really hard on writing the perfect message, less think about how to present it and how it will be perceived.
Being bombarded with thousands of media images each day, we simply cannot expect our listeners to be excited about some words on a slide. In fact, some data shows that the decision to engage with a piece of content is made in the first 20 seconds. Meaning that to get the attention of clients and investors, digital communication has to be engaging, visual, and filled with components that will keep the listener interested all the way through.
Using e-learning tools to engage your audience
Luckily nowadays there is little that you can't include in your next presentation. Take an example from successful e-learning courses and enhance your next value proposition with video, audio narrative, quizzes, Q&A sessions or even let your audience choose what you will be talking about next. This way your presentation will become a collection of micro-learning opportunities. The only thing to consider here is what exactly to use.
When thinking about all the material you could add, it is easy to lose sight of what really matters, and here is where professionals like Wiseon come in.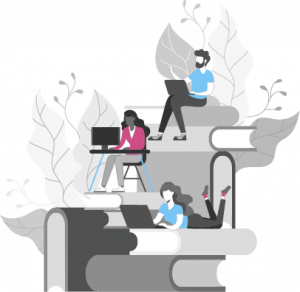 Having worked with a variety of companies, industries and created a large number of presentations for various goals, a company like ours will be able to guide you and choose the best blend of tools for each case. Whether you are speaking at a large event, want to present your solutions at a conference, or simply need to create something for your internal team, we are here to guide and help you.
Digital communication outside your company
When it comes to creating communication packets for those outside of your company, it is really important to be noticed. In this case, the audience has no preexisting interest in what you have to say and it is your job to change that. Thus, the communication has to have a clear message and this message has to be presented in a way that attracts the right attention and retains it. This might sound complicated, but in reality, all you have to do is look through the possibilities and see which option will fit your audience the best.
If you are unsure of what the best medium would be in your case, do not worry as this is what companies like Wiseon are here for. We always help clients find the best solutions and then implement them to create a final product.
A recent collaboration with DTO is a great example of this.
The DTO case
DTO is an international market research and consulting company with a focus on B2B market research and strategies. Being a company that works in several fields, they have identified a need to present and explain their services to potential customers. Thus, they have reached out to us with a request to create a new marketing movie.
First, we needed to identify what kind of a video approach would be the most suitable for DTO clients. Thus, we collaborated with the company to pick out a concept and create a storyboard. Once this was laid out, we took over to design and animate a movie that would fit the client's wishes and the potential customer expectations.
In the end, using our expertise and client's goals we created a marketing movie that is engaging and effective.
Communication in your company
Digital communication within a company is a little bit different. Here it is aimed at relaying information between departments, boosting morale, and keeping the team informed on what is happening. Thus, we can use it more freely and adventurously. And in fact, making it fun actually helps to keep the employees engaged and wanting to read it. Adding in viral videos, pop-up quizzes, asking your teams to create messages themselves and similar interactive approaches work wonders while keeping the company values and sending the right message.
Onboarding Solutions
One of the biggest pains for many companies' internal communication is relaying large amounts of information to new employees. While there is no way to avoid this onboarding step, using e-learning solutions can make it just a little bit more fun for the new team members.
In fact, we have worked on various onboarding solutions throughout the years and the one we created for Ignitis Group is a nice way to make the onboarding just a little more fun. Ignitis Group, a major energy provider in Lithuania came to us with a long and exhausting list of links that new employees had to familiarize themselves with. The links were divided into sections according to when the new team members had to review them. But the approach was burdensome and created little motivation to engage.
To make onboarding a little more fun, we have developed a new concept for relaying this information. The list of links was transformed into an interactive solution and as the employees would go through each link, they would be growing their own virtual plant to show progress. This way we eliminated a tired progress bar and added in a new fun element to make sure the employees stay engaged.
Safety instructions
Another common missed opportunity with internal communication comes in the form of safety instructions. We all have the experience of being hauled up in the seemingly never-ending meeting to get such instructions. And while most manage to sit through it, few truly absorb all the important information and implement it in their day-to-day activities.
Using e-learning and visual digital solutions in such cases really work. A convenience store and gas station company Circle K is one of our clients that took advantage of this solution.
The customer have asked us to digitize over 10 paper based instructions for their employees. This was aimed at various positions within the company like gas station operators, food technicians, janitors, and others. The main goal of all these instructions was to introduce employees to work safety rules.
As a result, we have provided Circle K with an e-learning course that replaced the paper instructions. Allowing people from various positions throughout the company to get their safety instructions in an engaging way and be less reliant on paper copies. To make sure the employees take in all the information, the course was supplemented with interactive exercises, engaging illustrations and photos from real work environment.
Templates for internal communication
Lastly, a big part of internal communication is created by the employees themselves. And while some are very creative and find ways of presenting the information visually, others might struggle and lose the interest of their colleagues.
Here is how you can help your employees keep the internal communication engaging:
Summary
With a shortening attention span, an overload of information, and competitors sometimes it feels like your message never sees the light of day. However, preparing beautiful and engaging digital communication that is aimed at the specific target audience really does make a difference.
Use it to attract new customers, keep the shareholders informed, and mostly to make sure your employees are engaged and always ready to perform.
Share this post on social media: