OCCUPATIONAL HEALTH AND SAFETY COOPERATION WITH A FACILITY SERVICES COMPANY
COOPERATION WITH A FACILITY SERVICES COMPANY
A modern training course created in partnership with renowned health and safety experts, which is eligible as introductory and periodic health and safety on-site instruction.

What was implemented:
Users create their avatars from the beginning.
A gamified solution presented as a game and based on four missions – four chapters of the training – Ergonomics, Occupational Risks, Fire Safety, and First Aid.
The e-learning is loaded with tasks and exercises.
Users collect points across four levels of the training.
Users can download a stylish diploma showing the superpowers they earned and the points they collected.
What we achieved:

We incorporated an extraordinary game-like element to make health and safety training more engaging.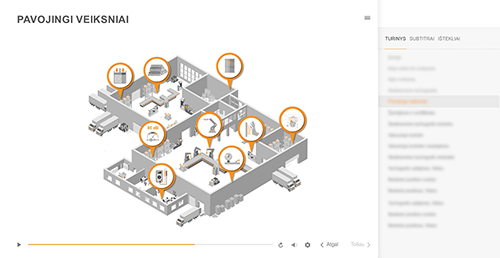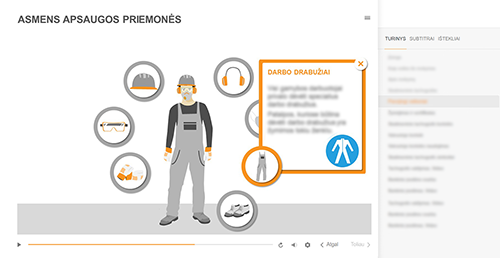 DATA PRIVACY AND SECURITY E-LEARNING BALTIC PHARMACY CHAIN
BALTIC PHARMACY CHAIN
A short and comprehendible interactive piece of training on data privacy for pharmacists.

What was implemented:
Elegant, simple, and interactive solution without voiceovers.
Based on real questions and situations.
Action happens in the pharmacy – the environment with which the learners are familiar.
What we achieved:

In this e-course, we have created realistic scenarios in an engaging format. This enables employees to practice how to handle circumstances they may face in the workplace.
OCCUPATIONAL HEALTH AND SAFETY VARIOUS CLIENTS
VARIOUS CLIENTS
Engaging e-learning courses covering the unappealing topic of occupational health and safety for a diverse range of clients.

What was implemented:
Training material is usually structured through the use of engaging storytelling.
Visually appealing and created to match the clients' specific brand guidelines.
Enhanced with interactive exercises and quizzes to enrich learners' experience.
Usually based on simply animated illustrations.
What we achieved:

We created e-learning scenarios that were relevant and applicable to real-world job situations. This enabled our employees to apply the knowledge they gained to their everyday work lives.
FIRE SAFETY TRAINING VARIOUS CLIENTS
VARIOUS CLIENTS
Comprehensive e-learning covering Fire Safety, created in collaboration with subject experts from ISS World.

What was implemented:
Compliant with Lithuanian Fire Safety laws.
Full-scale e-learning course eligible to replace periodic live training.
It covers a broad spectrum of fire safety topics: statistics, dangers, prevention, requirements, etc.
Compelling design solutions to consider.
Now available for adaptation to any interested client!

What we achieved:

We did a remarkable job of designing an interactive e-learning program. Our primary focus was to discover captivating and stimulating ways to educate on safety. We incorporated multimedia components and activities to make the learning process fun and engaging.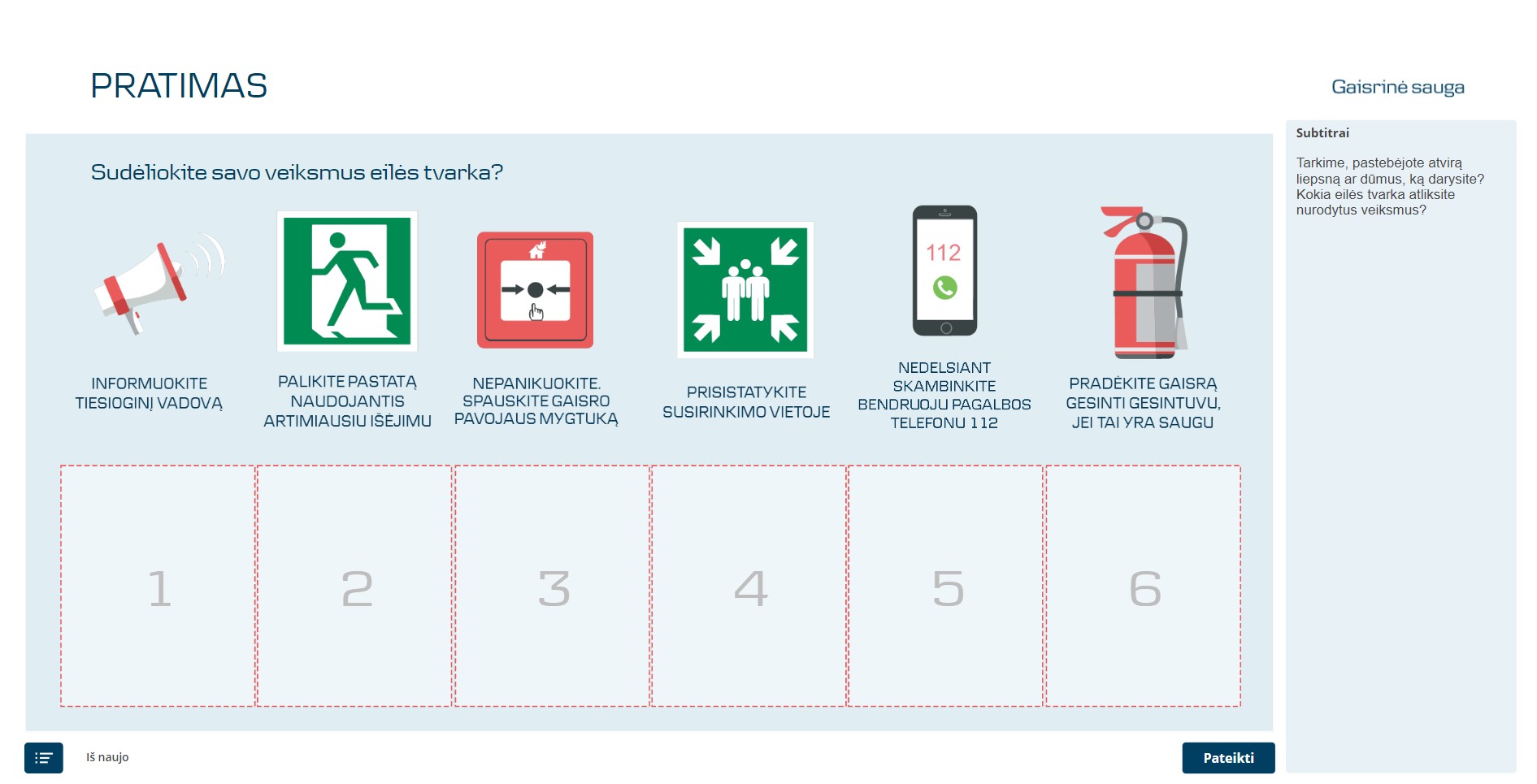 GDPR TRAINING COURSE VARIOUS CLIENTS
VARIOUS CLIENTS
The introduction to employees the definition of personal data and the requirements for handling it (GDPR)

What was implemented:
Forming a profound understanding of personal data: what it is, how to correctly handle it, what is considered a violation, etc.
Effectively implementing the latest information coming from the GDPR policies.
Suitable for learners with different backgrounds and reveals the information in a simple and easy-to-understand manner.
Widely varying skill levels of learners.
First created specifically for an energy distributor; later adapted to other clients.
Now available for adaptation to any interested client!

What we achieved:

We developed an interactive e-learning program to turn dull data into captivating material. We had to analyze a vast amount of instructional material to determine the most common examples and explain health and safety regulations in an exciting manner to personnel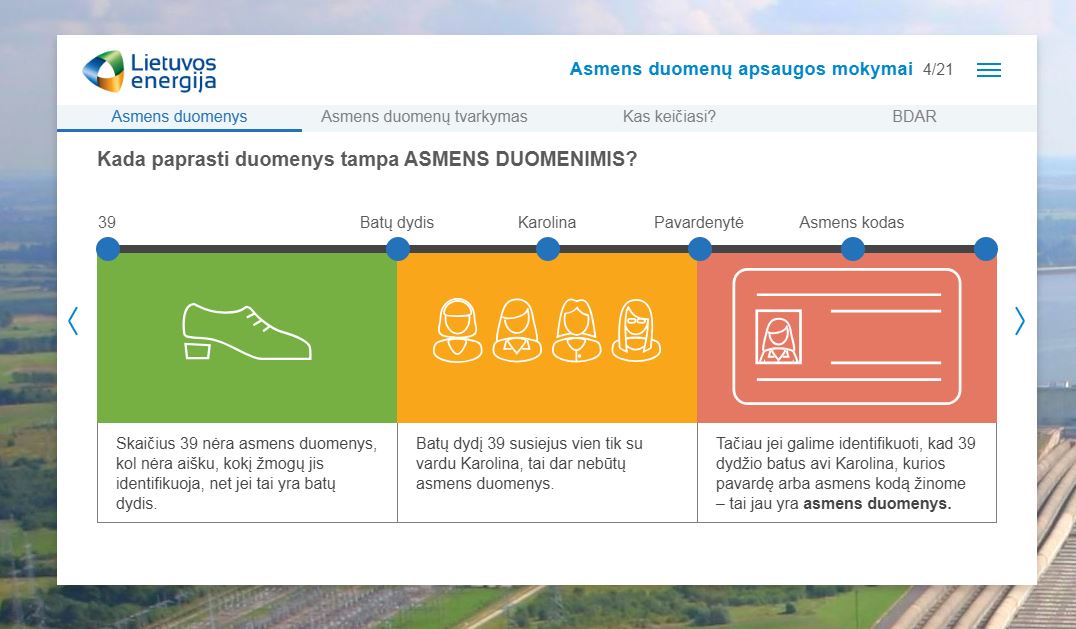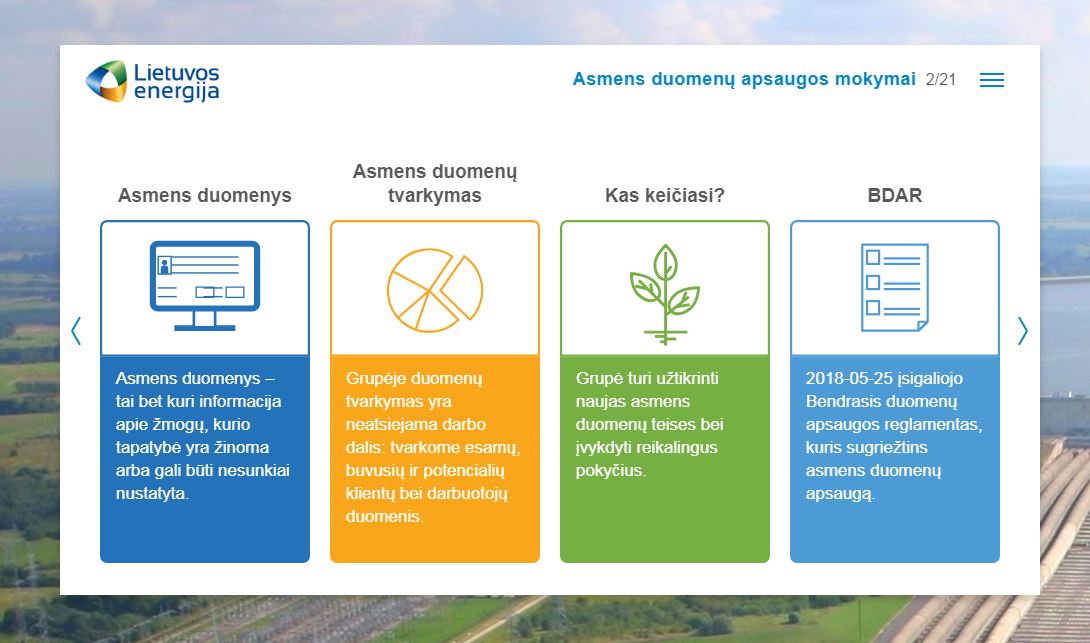 ACTING DURING A ROBBERY LITHUANIAN BANK
LITHUANIAN BANK
The game-based training teaching bank employees how to act during a robbery.

What was implemented:
Introductory training on all the necessary security requirements simulated during the robbery.
Interactive and emotionally appealing; improves staff motivation.
A fresh and creative approach to training.
Followed by the adaptation and implementation across the entire banking sector in Lithuania.
What we achieved:

We created simulations that felt true to life and made them exciting and interactive. This involved combining a huge amount of content and multimedia formats. The customer was delighted with the end result.